Public medical information for all...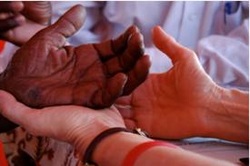 The founders of Daystar Medical have worked for years in the emergency rooms across the United States and all over the world, providing the best possible care to their patients under extraordinarily diverse circumstances. They have recognized the common needs of patients everywhere: to compassionately care for those in need and empower them to make educated, independent decisions that improve both their physical well-being, as well as their overall quality of life. Every physician who embraces their role as a partner in their patients' lives understands that they are best served by giving them the tools they need to effectively identify and address the causes of disease and distress. Our patients know that knowledge is power. We help them attain this knowledge.
---
Educated patients means better healthcare...
We believe that your health is far too important to leave exclusively and entirely in the hands of any person, even your personal physician. Your life, the lives of your family and all of your loved ones will be healthier and happier if you and your healthcare providers are actively engaged in honest, patient-driven dialogue about all elements of your physical and emotional well-being. How you feel effects how you treat the most important people in your lives, how you perform at work, how much enjoyment you take from experience . Healthier people are happier, more active and successful in every aspect of their lives. They push innovation because they demand answers, seeking them out, making important decisions based on their diligent application of knowledge and this leads to better healthcare for everyone as the benefits of their motivation permeate into their local and social networks. More cost-efficient healthcare. More evidence-based healthcare. Globally, for all.